The Islanders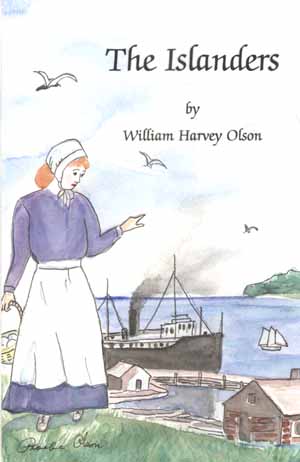 The Islanders begins with the arrival of Jed Shaw and Bobby Davis on Washington Island, Wisconsin in the spring of 1853. They join up with Lars Nelsen to work in the thriving fishing industry. Their lives are changed forever when the Island's new schoolteacher, Sarah Blacklock, arrives at the Nelsen home as a fellow boarder. Jed and Bobby have a secret from their past life back East which eventually surfaces to haunt them.
A series of adventures befall the group as the year passes. Sarah's life becomes more complicated when her mother arrives from Boston. Jed and Bobby are fishermen, lumberjacks, ice fishermen and fugitives in turn. Both fall for Sarah in quite different ways.
172 pages, softcover, $10.95.
The book is available by mail for $10.95 plus Shipping/Handling Charges (Wisconsin residents add 5.5% sales tax) from:

    Charles Olson
    845 Jackson Harbor Rd.
    Washington Island, WI 54246


Print an order form for: BOOKS
Link back to: Washington Island BOOKS
go back to the: TOP PAGE
Check out our: Ham Radio kits