Keyall Discrete kit - January 27, 2019 - initial release
back in stock - January 9, 2021, thanks for waiting
March 19, 2019 - new circuit board, original board kit still available at $1.50 discount
Click picture for a larger view: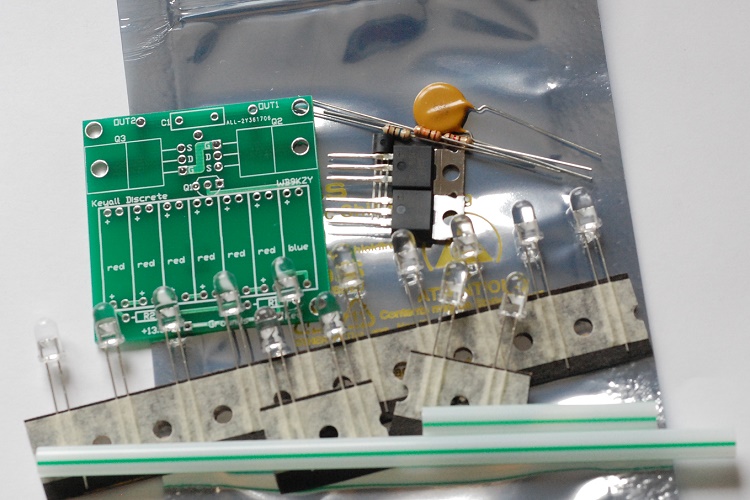 Please contact Chuck:



with any questions

The Keyall Discrete kit allows the owner of a keyer with a low voltage positive (NPN or n-channel MOSFET) keying transistor to drive the vacuum tube transmitters and transceivers of yesteryear. This unit will key negative voltage rigs (grid block keying) or positive voltage rigs (cathode keyed tube transmitters and conventional +13.8V powered solid state rigs). The output transistors and capacitor are rated at 1000 V and 3.1 A (3100 mA). The Keyall Discrete will normally key a single transmitter. The use of the word: discrete refers to the fact that only LEDs, transistors, resistors and a capacitor are used in the kit, no ICs (Integrated Circuits) are used.

The Keyall Discrete is an update of the Keyall HV kit

design is a MOSFET based solid state relay, SPST-NO single pole, single throw, normally open
high voltage output is optically isolated from the low voltage input
kit includes a circuit board and all board mounted components
just add your enclosure, in/out jacks and a battery/power supply connector
board size: about 2 by 2 inches (50 x 50 mm)
original board had a resistor (R3) mounted on the bottom, the new board has it on top
pricing: $17 with 1000V transistors plus postage/handling
original board pricing: $15.50 with 1000V transistors plus postage/handling
printed documents are NOT included, please print/view your own from the pdf files provided

Download(right click - save target as) the manual , manual change note for new board (after 3/19/19) , schematic , hookup and technical questions and answers to view or print your own.

Print out a Kit order form to figure your order manually
or try our: javascript order form to let your browser do the math!
Youtube videos:
K9LW provided this: video of his kit, Thanks Dick !
K9LW also provided this: second video with the case opened
Finally here is my video of the kit switching a 120VAC appliance lamp