Perspectives of an Island Citizen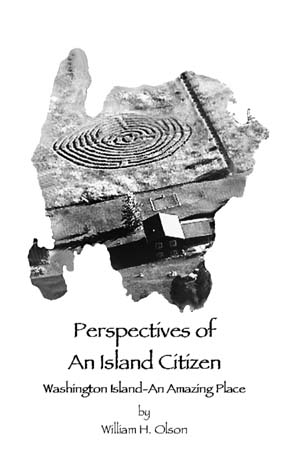 This is a collection of "Citizen's Perspectives" written for the Washington Island Observer newspaper published between January 1994 and December 2006.

138 pages, softcover, $10.95.


A comment on Perspectives of an Island Citizen:

Bill Olson is a citizen-rebel in the finest tradition of real American values, with the heart of a poet (his idol, Robert Burns), and the soul of a true Islander. All this is evident in these short essays written originally for the local paper: The Washington Island Observer. I canít think of a better introduction to the Island than this good man, his good words, and his way of living the good life with about 700 friends, five miles off the tip of the Door Peninsula.

- Norbert Blei, CROSS+ROADS PRESS
The book is available at Door County bookstores and other selected locations.

The book is $10.95 or by mail for $10.95 plus Shipping/Handling Charges (Wisconsin residents add 5.5% sales tax) from:

    Charles Olson
    845 Jackson Harbor Rd.
    Washington Island, WI 54246


For fast, easy and secure credit card order of Perspectives of an Island Citizen (WI residents will be charged 5.5% sales tax), please click the Add to Cart button below to pay via Paypal.

Readers outside the USA, please direct inquiries to

for shipping rates to your country.
Print an order form for: BOOKS
Link back to: Washington Island BOOKS
go back to the: TOP PAGE
Check out our: Ham Radio kits