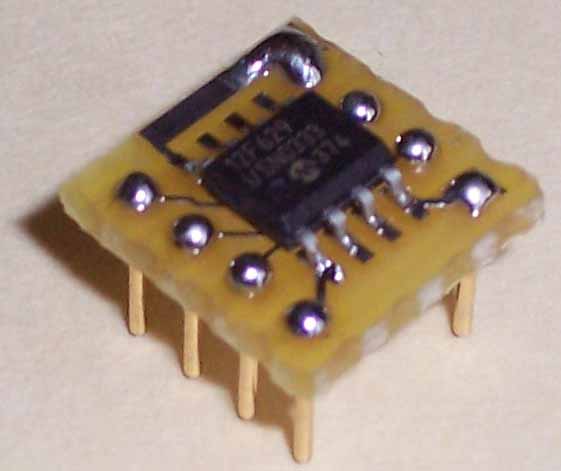 NEW (5/20/2007) - PK-DC keyer chip kit






The PK-DC is an upgrade for the Hendricks QRP Kits DC-xx or Simple Keyer stock keyer chip. It is a simple surface mount kit including a circuit board, SO-8 keyer chip, 8 gold plated pins and an 8 pin socket used in assembly. It offers:



8 wpm to 49 wpm speed range
paddle speed control
three, 40 character, non-volatile memories (settings saved without power)
iambic a or b modes
Bug mode
Autospace mode
Beacon mode with adjustable delay between sends
Reverse paddle mode
5 dit-dah tune mode


Download the PK-DC manual and the diagram

Here is a bottom view of the assembled PK-DC keyer chip kit:



chip kit price (no manual) is $5 + shipping/handling
the SO-8 keyer chip only (no board, pins or socket) is $3 + shipping/handling




to purchase the PK-DC kit, print out a Kit order form to figure your order manually
or try our: javascript order form to let your browser do the math!
OR to pay with a credit card use the Paypal shopping add to cart button below.
Pay me securely with your credit card through PayPal!

Downloadable files for PK-DC
The Acrobat files of complex diagrams (like the schematic) may not view well on your computer screen - suggestion: use the magnifier to zoom in for better detail or print out the file.

pkdcb.pdf (28k) - an Acrobat file of the PK-DC manual

pkdc.pdf (9k) - an Acrobat file of the PK-DC diagram

Chuck Carpenter, W5USJ, was kind enough to supply the following docs for the PK-DC:


PK-DCKeyerMenus.pdf (15k) - an Acrobat file of the PK-DC cheat sheet

PK-DCkit-1.JPG (33k) - a JPEG picture of the PK-DC mounted in a Simple Keyer kit

PK-DC_-_SKC-Va.pdf (341k) - an Acrobat file of using the PK-DC chip without the kit

Page accesses: