November 18, 2015 - SOLD OUT - 10 minute timer kit
The timer chip alone is still available - please email if you are interested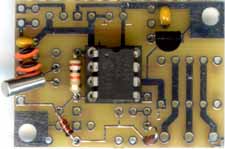 3 countdown timers, Morse code based
settable to a max. 99 minutes, 59 seconds
accurate timing via a 32 kHz watch crystal
low power design, 20 uA at 3 volts
Morse beacon capability built in
over 90 char message length
QRSS (slow speed) beacon capability built in
all parameters stored in eeprom
kit includes circuit board & components shown
add your enclosure, switches, piezo, jack and a battery holder
Size is 1.25 x 1.5 inches - fits into a candy tin with room to spare
ask to have your message and timer settings preprogrammed
Note that there are two versions of the circuit board and that there are different sets of documentation for each. The original board was sold through 10/26/2006.

Printed manuals available for an additional charge or save money by downloading (Right click/save target as) and printing the latest board version 2 manual , latest board version 2 schematic , latest board version 2 hookup diagram and application note. Also here is the EEPROM data structure

Download the original manual , original schematic , original hookup diagram .



Page accesses: