May 21, 2014 - Bug Descratcher III kit
August 2, 2023: The enclosure is back in stock, thanks for waiting
March 28, 2023: prices increased due to higher parts prices
The Bug Descratcher III kit is the third version of a circuit from the September 1992 issue of QST by WX7G, Dave Cuthbert. The Bug Descratcher III removes the "scratchiness" encountered with semi-automatic keys (bugs) due to contact bounce. It can also be used with straight keys. It features: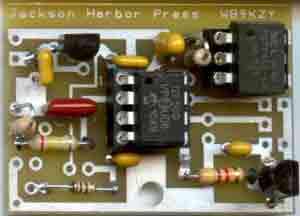 a debounced output to eliminate scratchy sounding keying
optional solid state relay (SSR) output to key nearly any rig (solid state, tube positive or tube negative keying voltage)
available as a board only kit
board size: 1.25 x 1.5 inches
operates from 9 to 13.8 volt battery or power supply
minimizes the input to output delay (previous versions had about 6 mS of delay)
price is $14.00, with SSR option $21, with enclosure $26, with enclosure & SSR $33 + shipping/handling
note that enclosure box is New Old Stock and may require cleaning and/or filing (sanding) before use
printed documents are NOT included, please print/view your own from the pdf files provided


For pricing, availability or any other questions, please send an email to me, Chuck Olson, WB9KZY at:





with your question.

Kit Documentation: download (Right click/save target as) and print the Bug Descratcher III kit manual , schematic diagram and hookup diagram
enclosure manual
all in Adobe Acrobat (.pdf) format.
Here is a simple diagnostic test file in case of trouble.