February 12, 2014 - DS32KHZ TCXO circuit board
discontinued March 28,2023
The DS32KHZ TCXO circuit board is intended to allow the experimenter to easily use the Dallas/Maxim DS32KHZ TCXO chip. This is NOT a kit, merely a circuit board. The reason for not including the DS32KHZ TCXO chip is that they are quite expensive in small quantites. The DS32KHZ operates at 32.768 kHz and is very accurate compared to regular watch crystal circuits. The experimenter would use this board to drive another project such as a digital clock where a more accurate oscillator is needed. For example, I've used a prototype version of this board to drive the clock in the Elecraft K2 KAF2 kit where it gains less than 1 second per week. Minimal documentation is included, the experimenter should be able to build/apply the board easily using the Dallas/Maxim datasheet .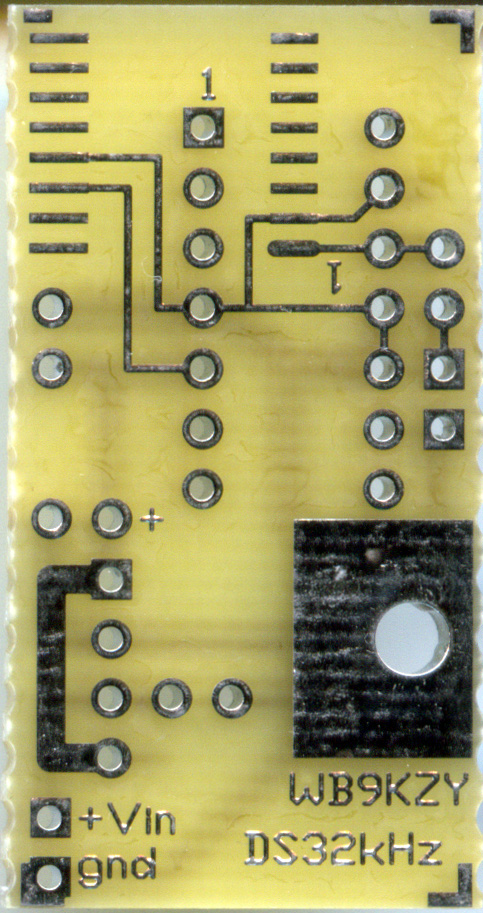 circuit board for Dallas / Maxim DS32KHZ TCXO chip
supports both the DIP and SO (surface mount) versions
add better accuracy to current timekeeping projects without changing firmware
works with 3V battery such as CR2032 lithium cell
low power, uses less than 4 uA
prototype gains less than 1 second per week installed in an Elecraft K2 w/KAF2 board
includes traces for a low power Seiko voltage regulator (parts NOT included or required)
board alone, parts are NOT included
For timekeeping usage, not intended for RF circuits
printed documents are NOT included, please print/view your own from the pdf files provided



Documentation for DS32KHZ board: download (Right click/save target as) and print the Schematic + Parts placement diagram , in Adobe Acrobat (.pdf) format or text file.



For larger quantity purchases, to combine with other items, for DX purchase price or for any other questions, please send an email to me, Chuck Olson, WB9KZY at:





with your question
Page accesses: