Piezo Loudenator

January 26, 2019 - initial release
Please note that the postage/handling fee is added to the cart only after Paypal knows the shipment destination.

Click pictures for a larger view: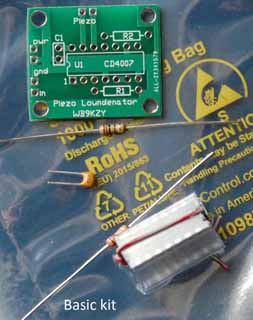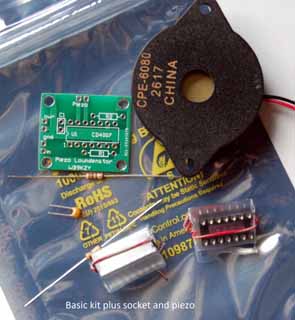 Please contact Chuck:



with any questions

The Piezo Loudenator kit allows the builder to increase the volume level from a piezo sounder while retaining the low power consumption of the original circuit.



board size (1.2 by 1.025 inches)
kit is available in two option levels:
$3: Basic kit: circuit board, CMOS chip, two resistors, capacitor
$6: Basic kit plus CPE-6080 large piezo and 14 pin machine DIP socket
Note that the builder may need to add an enclosure or other parts to complete the kit
printed documents are NOT included, please print/view your own from the pdf files provided


Download(right click - save target as) the manual , schematic and hookup to view or print your own.



Print out a Kit order form to figure your order manually
or try our: javascript order form to let your browser do the math!