January 13, 2021: back in stock, thank you for waiting
September 18, 2020: due to component price increases, the kit is now $28
NEW (07/16/2015) - Grandson of Zerobeat

Need other parts to complete your kit ? Please see the: switch and parts page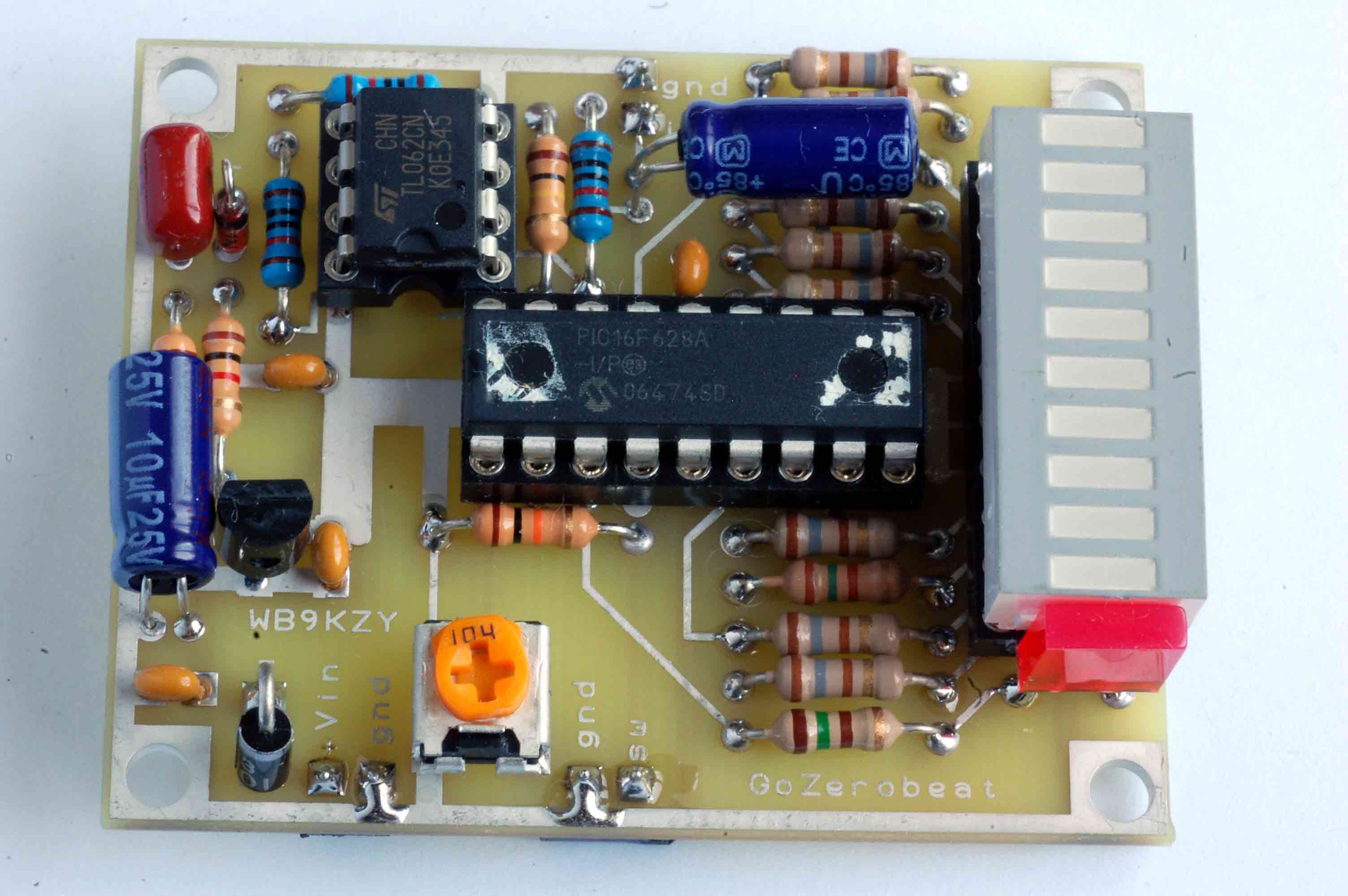 The Grandson of Zerobeat is an update of the original Son of Zerobeat kit

Grandson of Zerobeat has 9 LEDs which graphically indicate the frequency of a received CW audio tone. Adjust your transceiver's frequency until the two center green LEDs light up and you are within +/- 10 Hz of zero beat with the transmitting station.



one pot audio detector setting
board size: 2.1 by 1.7 inches
reverse the "direction" of the LED frequency indication with a switch press and release
set the offset frequency from 400 to 1200 Hz with a switch press and hold
default offset frequency is 600 Hz
OR just request by email before ordering to have your kit preset to your favorite CW center frequency
all board mounted parts including machine pin sockets come with kit
just add your metal enclosure, +12V power jack, audio jack and switch to complete the kit
printed documents are NOT included, please print/view your own from the pdf files provided
Kit price (No manual) is $28 + shipping/handling

K9LW provided this: video of his kit, Thanks Dick !

Pat, W0BM, supplied this link to a 3D printed case design for the Grandson of Zerobeat, Thanks Pat !

Scroll down for the manual, schematic and other acrobat files for this kit

Note that on boards supplied with kits purchased before August 12, 2018 the plating appears corroded, however it should not affect soldering.
Suggestion from a customer: use a brass brush to shine up the bottom traces before soldering.

Print out a Kit order form to figure your order manually
or try our: javascript order form to let your browser do the math!
Inquire via email for pricing of the Grandson of Zerobeat PIC chip alone or PIC chip + LED array only for updating the original Son of Zerobeat.


Downloadable files for Grandson of Zerobeat
The Acrobat files of complex diagrams (like the schematic) may not view well on your computer screen - suggestion: use the magnifier to zoom in for better detail or print out the file.
gzbmana.pdf (87k) - an Acrobat file of the Grandson of Zerobeat manual
gzbmodop.pdf (45k) - an Acrobat file of the Grandson of Zerobeat optional modification ideas
gzbsch2.pdf (99k) - an Acrobat file of the Grandson of Zerobeat schematic
Note: Firefox can't "see" the schematic for some reason, try a right click & save link as to download the schematic and view it with Acrobat
if that doesn't work, please email me and I can attach a copy of the schematic to the reply
gzbdia.pdf (250k) - an Acrobat file of the Grandson of Zerobeat parts placement
gzbhu.pdf (95k) - an Acrobat file of the Grandson of Zerobeat hookup picture
rp_gzb.jpg (238k) - Thank you to K9LW, for sending a picture of his Grandson of Zerobeat in an LMB MDC-432 slant top enclosure
Dick put a hole over the trim pot for easy adjustment of the level set.
The MDC-432 is plain aluminum, 4 inches deep, 3 inches wide and 2 inches tall at the back, Digi-key has them, L122-ND

DSC_0124.JPG (648k) - a picture of the Grandson of Zerobeat prototype in a clear top enclosure
Note: the false colors of the detector LED and the center green LEDs is due to a time exposure
gzerbfix.txt (2k) - a text file to help in fixing a Grandson of Zerobeat kit
gzbmodem.pdf (139k) - an Acrobat file of an EMI fix for the Grandson of Zerobeat kit