July 27, 2012 - MegaPK-game keyer kit
March 28,2023 SSR is now $7 due to parts price increases
January 2019: kit now includes a solder masked, silk screened circuit board
July 7, 2023 see the Keyer Enclosure Kit to house the keyer kit
The MegaPK-game kit is a different version of the MegaPK-II. The MegaPK-game has all of the keying features of the MegaPK-II but swaps in a word guessing game for the code practice modes. It features: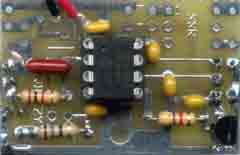 pot or paddle speed control, 5 to 67 WPM
optional solid state relay (SSR) output to key nearly any rig (solid state, tube positive or tube negative kerying voltage)
board size: 1 x 1.5 inches
word guessing game (words of 5, 6, 7 or 8 characters long)
one 58, one 60 and one 120 character memories
OR optionally one 58 and three 60 character memories
memories & settings retained without power (EEPROM)
Ultimatic or Iambic A or B keying modes
beacon mode, variable delay, up to 60 seconds
adjustable element weighting
variable sidetone frequency
command entry eliminates most menus
low standby power (about 1 ua with regulator)
a 5V pin compatible chip is available for PK-Basic, PK-2, PK-3 and PK-4 keyer owners who want to upgrade


The kit (board plus board mounted parts, no documentation) is $12 + shipping/handling
Add another $7 for the SSR high voltage keying option to above prices
add $2 to the above prices for a micropower 3V voltage regulator option

MegaPK-game chip alone available for $4 + shipping/handling

Kit Documentation: download (Right click/save target as) and print the MegaPK-game kit manual , MegaPK-II detailed building sequence , MegaPK-II schematic diagram and MegaPK-II hookup diagram all in Adobe Acrobat (.pdf) format.
Here are the MegaPK-II schematic diagram and MegaPK-II hookup diagram for the kit with the optional SSR and voltage regulator.
Here is a MegaPK-II cheat sheet for memory recording and play from Dick Parks, K9LW.
Here is a Beacon quick start text file.


To purchase the MegaPK-game kit, print out a Kit order form to figure your order manually
or try our: javascript order form to let your browser do the math!



For larger quantity purchases, to combine with other items, for DX purchase price or for any other questions, please send an email to me, Chuck Olson, WB9KZY at:





with your question
Page accesses: