5/9/2011 - The PK-3 has sold out consider the PK-4 kit and chip. They are still available with extra features at a lower price than the PK-3.


The PK-3 is a Morse code iambic keyer which offers: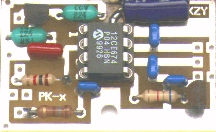 pot or paddle speed control, 5 to 39 WPM
one 57, one 52 character memories and a callsign memory
OR optionally one 57, two 26 and one 10 character memories
pin compatible with Tick or K8 keyer chips
ALSO, fully pin compatible with the PK-2 keyer
mode A or B Iambic keying
beacon mode, variable delay, up to 60 seconds
one touch CQ using callsign memory
embedded and manual pause of memory play
machine pin socket for keyer chip included with kit
speed readout - sends code speed via the sidetone
optional autospace, paddle reverse and many other features
low standby power (about 7 ua at 5 V, with regulator)
low active power (1.5 ma max. at 5 V, with regulator)
small size (1 by 1.5 inches)
View the manual for more information on the kit.
Questions ? Please email:


Downloadable files for the PK-3
The Acrobat files of complex diagrams (like the PK-3 schematic) may not view well on your computer screen - suggestion: use the magnifier to zoom in for better detail or print out the file.
pk3fep.txt (k) - Having trouble with your PK-3? This text file has solutions for frequently encountered problems.
pk2nc20.txt (5k) - a text file of comments on using the PK with the Norcal 20 or Red Hot Radio
pk3b.pdf (51k) - PK-3 schematic with updated (6/11/2004) circuit board
pk3a.pdf (66k) - PK-3 schematic with old (before June 2004) circuit board
pk3f.pdf (41k) - an Acrobat file of the PK-3 manual
apntpk2a.pdf (52k) - an Acrobat file of the PK application note
stalkin.pdf (16k) - Stalking the Wild Multipress! - an Acrobat file of a hardware method to solve the problem of pressing 2 or 3 switches at the same time.
modeab.pdf (8k) - an Acrobat file explaning the differences between Iambic mode A and B
pk3hist.txt (1k) - a text file of the version history of the PK-3
Page accesses: